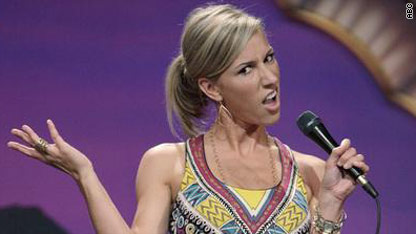 testing captions
We start with Jake wanting to go "head over heels" with Vienna, which only means one thing....Tears for Fears concert bungee jumping!  Vienna has, in her words, "butterflies what are we doing" about this.  Before we continue, please count the grammatical errors in the previous sentence.
Jake and Vienna jump, scream, say "Oh my god" several times and land upside down, 70 feet in the air.
After the jump, the two share adult beverages, and realize that they have a lot in common, such as screaming at the top of their lungs.  Jake gives Vienna a rose.
Vienna arrives at the house, rose at hand, and we get tonight's major plot development - everybody hates Vienna!  Ashleigh would rather watch paint dry than listen to Vienna talk about her date with Jake.  Others are shocked that she got the rose at all.
It's group date time, and Jake wants to introduce eight women to someone very special.  Instead, we get Jon Lovitz.  Last week, it was Chicago.  Why are Jake's surprises set in 1988?  I'm expecting tank driving lessons with Michael Dukakis in a future episode.
Lovitz now owns a comedy club, and the eight will have to go on stage to tell  jokes before Jon, Jake and a studio audience, who I hope did not have to pay a two-drink minimum to watch.
Corrie impersonates her housemates, specifically Vienna, confusing Jake.  Ashleigh, after some hesitation, tells a few blonde jokes, winning over the crowd.  Michelle, who's spent all series threatening to leave unless she gets one-on-one time with Jake, "jokes" about having one-on-one time with Jake.
After the party, Michelle asks Jake if she could kiss him to see if she can "feel" something.  They kiss, Michelle declares it lousy, and decides she can't stay... again.  Jake orders her gone instead.
As she left, Michelle said she wanted to find man.  Instead, she got a big green taxi, potential therapy bills and a possible job as the Russian figure skating judge at the Olympics.
More Vienna hate, as Vienna accuses the girls of being "fake", with the others accusing her of playing head games and having an ego the size of Austria.  Ashleigh tells Jake that he has nothing in common with Vienna, who argues that she isn't liked because she's "real".
Jake takes Ella to Sea World on their one-on-one date, and he has a real surprise for her, which my wife caught a mile away.  It's Ella's young son!  Jake bonds well with the tyke and, at the end of the day, Ella gets a rose.
At the cocktail party (why are there no light appetizers served at these parties?  Do these women ever eat?), Jake gets together with Elizabeth who, as you may remember, doesn't want him to try to kiss her.  Jake accuses her of giving him "mixed signals" - she doesn't want a kiss, yet she flirts like crazy.  Elizabeth admits to having a jealous side - a show requirement - but is upset at Jake's accusations.
Elizabeth says she's not vanilla, but rather she's all the colors of the rainbow.  Always thought the "V" in "Roy G. Biv" stood for "violet," but what do I know?
It's rose ceremony time, and Jake must eliminate two women.  Elizabeth goes home, as does Valishia, a woman who, uh, let me see...honestly, I didn't write a thing about her since I started this.  Talk about being under the radar, or being the most boring contestant in show history.
What do you think about this "Bachelor" episode?