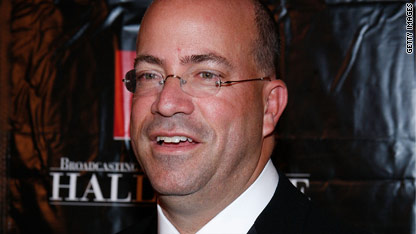 testing captions
NBC Universal President and CEO Jeff Zucker made an appearance on "Charlie Rose" Monday, and after lots of hammering from Rose, admitted that the network has clearly made some mistakes with their late night lineup.
Did NBC make the right decision in 2004, when they promised Conan O'Brien the "Tonight Show" seat in order to keep him from packing up for another network? Yes, Zucker said, and he has no regrets about that decision. Trying to keep Jay Leno by giving him his own prime-time show, on the other hand – definitely not the smartest move, said Zucker.
"We were trying to keep both of our talent in house," Zucker told Rose in the interview. "Obviously, in hindsight, perfect information leads you to the conclusion that it was a mistake. It's the sign of a leader to step and when something's not working, have the guts to reverse it and not let the mistake linger. Really, that's what we've tried to do. We've tried to correct something that didn't work."
Yet trying to correct that mistake has led NBC into an even bigger mess. O'Brien said last week that he wouldn't follow the "Tonight Show" if NBC pushed it back half an hour to accommodate "The Jay Leno Show" at 11:35, but NBC hasn't budged from their proposed lineup, and as a result is still working through negotiations to settle O'Brien's contract with the network.
While Zucker said he feels "terrible" that O'Brien won't be sticking around at NBC, at the end of the day, it's all about the bottom line.
"None of this is personal. These were business decisions. We're talking about moving back a program a half-hour, a program that wasn't making money for NBC. But the heap of scorn that has been put on this is completely out of whack," Zucker said.
The scorn has gotten so strong that some are even lobbing death threats at Zucker.
"It's been unfortunate," he said. "But, Charlie, a little perspective here as well, on the magnitude of what's happening in Haiti. People calling me names in the big scheme of things and people delivering death threats of a program moving back a half-hour is really out of context."
Zucker added, "We would have liked for Conan to stay. It wasn't perfect for Jay, he was going to do a half-hour; [and] it wasn't perfect for Jimmy, he would've moved back to 1 o'clock a.m. We didn't have enough room and time to make everyone happy."