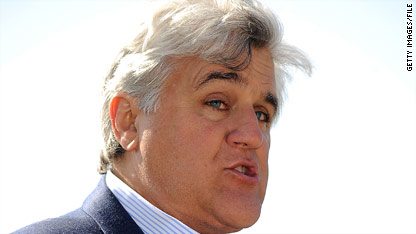 testing captions
Jay Leno had a great deal to say Monday night on his show as he shared his side of what's been going down at NBC.
"2004 I'm sitting in my office, an NBC executive comes in and says to me, listen, Conan O'Brien has gotten offers from other networks," Leno explained. " We don't want him to go, so we're going to give him 'The Tonight Show.'  I said, 'well, I've been number one for 12 years.'  They said, 'we know that, but we don't think you can sustain that.'  I said, 'okay.  How about until I fall to number two, then you fire me?'  'No, we made this decision.'  I said, 'that's fine."'
Leno went on to explain that he offered to retire and asked NBC to let him out of his contract, but was declined.
"They said, 'we want to keep you here,'" Leno said. "Okay.  What are your ideas?  They said, 'how about primetime?'  I said, 'that will never work.'  No, no, we want to put you on at 10:00.  We have done focus groups.  People will love you at 10:00.  Look at these studies showing Jay's chin at 10:00.  People will go crazy."
Leno said he was doubtful it would work, even though NBC assured him that while he may not initially do well in the ratings against competitors like "CSI," things would pick up when other series went into reruns.
That didn't happen and Leno said that likewise Conan's show during the summer "was not doing well." So the NBC brass decided to move Leno to 11:30 p.m., he said.
"Now, where I come from, when your boss gives you a job and you don't do it well, I think we did a good job here, but we didn't' get the ratings, so you get humbled," Leno said. "I said, 'okay, I'm not crazy about doing a half hour, but okay.  What do you want to do with Conan?'"
"We'll put him on at midnight, or 12:05, keeps 'The Tonight Show"'does all that, he gets the whole hour," Leno continued.  " I said, okay.  You think Conan will go for that?  Yes, yes.  (laughter)  Almost guarantee you.  I said okay.  Shake hands, that's it.  I don't have a manager, I don't have an agent, that's my handshake deal."
Leno added that he later found out through the media that Conan was not thrilled with the idea and NBC offered him "The Tonight Show" back if Conan decided to leave and Leno said he agreed.
In the end, Leno said, he has no hard feelings toward Conan.
"But through all of this – through all of this, Conan O'Brien has been a gentleman," Leno told his audience. "He's a good guy.  I have no animosity towards him."