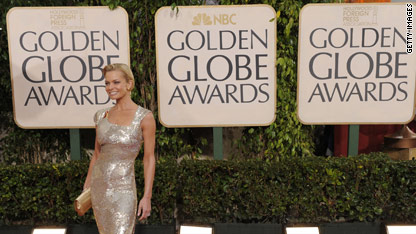 testing captions
This year's Golden Globes Awards must have sparkled just a little bit brighter than usual.
The Sunday night broadcast brought in 14% more viewers this year than watched the show last year according to Nielsen data
The boost in ratings could have been the curiosity over host comedian Ricky Gervais, the nomination of  so many blockbuster movies like "Avatar," "Sherlock Holmes," "The Hangover" and "The Blind Side" or maybe just America's need for some Hollywood glamour after watching devastating coverage of the Haiti earthquake last week.
Despite competing against the season premiere of Fox's "24" and ABC's "Desperate Housewives," the show brought in 16.9 million viewers earning it a 5.4 rating among adults 18-49.