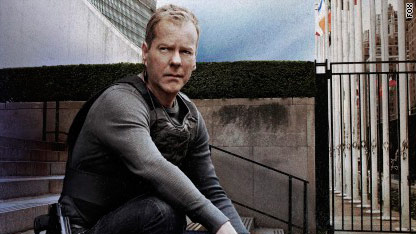 testing captions
Oh January... how do I love thee? Let me count the ways. Christmas has come and gone, the new year is underway, and Fox's "24" has finished its season 8  premiere.
Each week, loyal fans of this show feel like slackers by the time the credits roll. Jack Bauer seems to do more in the 24 hours of the single day that unfolds in a season, than most of us do in our entire adult lives.
The series premiered in a two-night, four-hour flurry of bullets, espionage, government database hacks and kidnappings. This season, CTU (Counter Terrorism Unit) has a sleek, new "big apple" headquarters. Their new spot seems to be more sophisticated, more technologically advanced, and just a whole lot cooler.
There are also some new characters in the mix, but you and I both know everyone is completely expendable on this show, so don't get used to, or fall in love with, ANYONE.
New faces at CTU include Mykelti Williamson as the highly unlikeable Director Brian Hastings, who runs operations. Freddie Prinze, Jr. also joins the cast as Cole Ortiz, who seems to be a good agent with good instincts.
One other new face is Ortiz's fiance' Dana Walsh, played by Katee Sackhoff. Dana seems to be living some other life that the pesky "ex-boyfriend sleeping-in-the-van" is threatening to expose. I thought this storyline was a bit laughable, but I'm intrigued. Let me sort this one out for those keeping score at home:
Girl gets good government job fighting terror and meets boy. Girl gets engaged to boy, but then ex-boy/convict shows up making threats, sleeping in his van, and demanding girl put him up at her place or else he'll rat her out.
Huh? We'll see how this works out.
Of course, there are also more new government officials to be tampered with, and a bevy of new hate-able bad guys for Jack to take down. I thought the show started pretty intense, but cooled here and there to introduce us to the new characters, and give us some background on a few situations. I guess I can accept that for the season's debut.
Much of the formula for Jack Bauer's high jinx remains intact, but I wasn't getting too cozy with the notion of "Grandpa Jack." The brief appearance of his daughter's family seemed to be a new twist on all that pulls on him in the show, but I just didn't believe he would walk away from the latest threat to national security.
I was glad to see two other faces again this season: Chloe O'Brian and Renee Walker. Renee always seems to walk the fine line between sadistic and gentle in the field. Quite frankly, I dig that, and I believe it is an endearing quality. Wait, can there be a fine line between sadistic and gentle?
Meanwhile, who missed Chloe's complete disregard for a pleasant disposition and her patented snarl? Me, me, me! Even with her permanent frown, she's lovable and we can always count on Chloe to get exactly what Jack needs right when Jack needs it.
By the end of the show, (per the norm) I was spent. "24" is tiring in a good way, and this season looks promising based on a good pace set by these action-packed episodes. Be sure to check back each week for our weekly take on "24." Loved, kinda liked, or hated the show? Let us know!