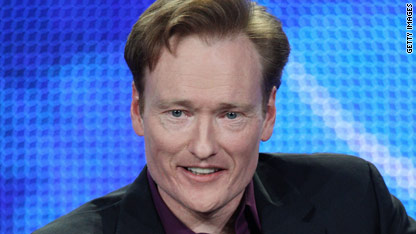 testing captions
At this point, it doesn't look like the NBC jokes will ever cease. Conan O'Brien served up another helping in his opening monologue for "The Tonight Show."
"Hi, I'm Conan O'Brien, NBC's 'Employee of the Month.'
There's a rumor that NBC is so upset with me, they want to keep me off the air for 3 years. My response to that is, if NBC doesn't want people to see me, just leave me on NBC.
Time sure does fly. Do you realize that a baby born on the day we did our first "Tonight Show" is now a slightly larger baby?
This is absolutely true—I received a letter from the adult film company "Pink Visual" offering me a role in one of their porno movies. In the movie I'd be having sex with a beautiful woman and just as we're about to climax I get replaced by Jay Leno.
No matter what happens, it's been a real honor to sit in the same chair as Steve Allen, Jack Paar, Johnny Carson, Jay Leno, and Jay Leno.
Last night the CEO of Chrysler was giving a speech at the International Auto Show and people in the crowd started heckling him. He got so angry, he walked out, got right in his car and stalled.
It's been reported that an 8-year-old boy from New Jersey is on the government's Airport Watch List because he has the same name as a possible terrorist. So it's been a bad week for little Skippy Bin Laden.
There's talk of casting Amy Winehouse as Dorothy in a musical version of the 'Wizard of Oz.' In the Winehouse version of 'the Wizard of Oz' the house starts spinning before the tornado hits.
In Sweden, a group attending a Weight Watchers meeting were lined up for a weigh-in when the floor collapsed. Police at the scene are describing the accident as 'hilarious.' "