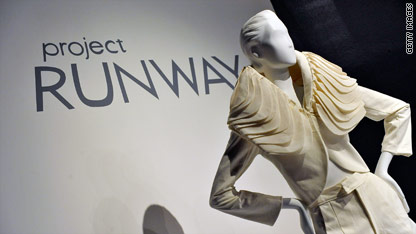 testing captions
Season 7 of "Project Runway" premiered on Thursday night. The return of the design competition felt a little bit like slipping back into a relationship with an ex-boyfriend. It's comfortable and predictable, but while you were broken up, he made some new friends and moved to a new neighborhood.
After a stint in Los Angeles, the show has moved back to New York City (why they ever left the fashion capital I still don't know). There are 16 new bright-eyed designers and the week's challenge was first-episode simple, "Show us who you are as a designer." Actually, what seems simple is probably the hardest task of all since it translates into "show us why you're worthy in one outfit in or less."
Reams of fabric were draped all about Central Park forcing the designers to scramble over one another to collect their materials. It looked like The Gates exhibit being ravaged by monkeys.
Contender Emilio noted that it was like, '"fat people at an open buffet in Vegas." I like him already.
At the judge's table we found guest judge Nicole Richie (in a grand return to reality television, hurrah!) and design god Michael Kors looking lovely and tan.
In the end, Emilio, a 43-year old designer from New York, won and Christiane, from Los Angeles via the Ivory Coast got the boot (which was unfortunate since African prints are really hot this season).
Season 7 looks promising and not only because it is back in New York where it belongs. The designers seem just quirky and crazy enough to make it work while keeping us entertained. Frankly the show can't get any worse than last season so Heidi and the crew doesn't have to reinvent the wheel to make some good television.