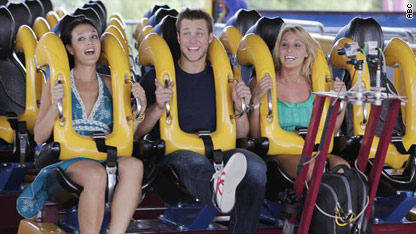 testing captions
If you watched previews for last night's episode of "The Bachelor," you knew that a scandal would be revealed.   But first, the pre-scandal events!
Jake takes six women to an In Style photo shoot, using a date card to say that "a picture is worth a thousand words."  Five of the six seemed to understand the phrase, while the sixth just looked happy that she was on a date.
When all was said and done, Jake gave a rose to model and divorced mom Rozlyn.  Jake says she's a mysterious woman, and that she needs to know more about her. 
Ali goes on the one-on-one date, which involves a plane ride, dinner in Palm Springs and running toward a Chicago concert.  This marks the first time anyone has run toward a Chicago concert since the band released "You're the Inspiration."  Ali also admits to only dating men with first names starting with the letter "J."  If this doesn't work, Ali can always contact the Duggars.  She gets a rose.
The third rose goes to Elizabeth following a five-woman date at an amusement park.  Nothing says finding your best friend than bumper cars and funnel cake.  Elizabeth says she has values and won't be kissed unless she's the final one.  However, Jake kisses her on the forehead twice, and Elizabeth seemed to bend in to take them.  Do forehead kisses violate the rule?
It's cocktail party time, and host/geography expert Chris Harrison is there to speak to Rozlyn....ALONE!  Chris tells Rozlyn that the show discovered that she had "entered into an inappropriate relationship" with a staffer.  He says the staffer is history, and that Rozlyn would be booted as well.
Rozlyn says her personal life is no one's business, despite the fact that she agreed to appear on a show where everything outside using the toilet is available for public viewing.
Chris then tells Jake what happened.  Jake asks Chris if he's kidding.  Chris does not respond with "The Aristocrats!"
Jake and Chris then tell the remaining contestants what happened, with Chris noting that the show is embarrassed about a line being crossed.  It must take a great deal to embarrass this show.  Chris also admits that the show wasn't prepared for this to happen.  You'd think after so many years and so many competitions, "The Bachelor" would be prepared to expect the unexpected.
We move on to the rose ceremony, where Jake eliminates Ashley the teacher, who seems to blame Rozlyn for her defeat, and Christina, who bawled to what sounded like a party added in post-production.
As for Rozlyn, she's now telling her side of the story, telling "Entertainment Tonight" that she merely had a friendship with the staffer in question, and that the friendship did not give her an advantage. 
Meanwhile, a reality TV Web site, RealitySteve, is claiming that Rozlyn's departure has more to do with her not being allowed to tell Jake about her son, while other women discussed the matter in interviews.  The site also alleges that once the staffer in question admitted to having feelings for Rozlyn, the show put two and two together to create instant scandal.
Do you think Rozlyn did something wrong, or did the show throw her under the bus?  Who do you think is telling the truth?