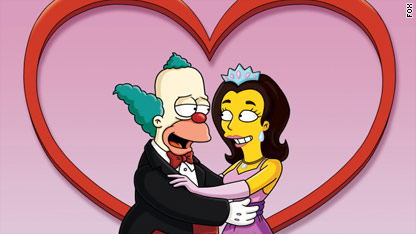 testing captions
Four hundred and fifty (that's right - four, five, zero) episodes in, "The Simpsons" is still capable of being truly great television. It's also still better than a lot of comedies out there. But let's be honest,
it's been all downhill for this show ever since the fourth or fifth season
.
There have been some gems in the past decade, like the VH-1 parody "Behind the Laughter" and "E. Pluribus Wiggum," where Springfield holds a presidential primary, but it's mostly been sub-par stuff for a long time.
Thankfully, the 20th-anniversary episode was one of those gems, focusing mostly on Krusty the Clown's new sidekick Princess Penelope (voiced with a New York accent by Anne Hathaway), and their surprising love affair. If not for the romantic twist, this might have been yet another "Krusty-on-the-verge-of-being-washed-up" episode. Instead, it was surprisingly sweet to see the old Clown find love - though admittedly it wasn't as successful as episodes involving Moe's dating life.
The subplot, with Homer and his pals being wooed by another nuclear power plant, didn't work quite as well, until Mr. Burns successfully won them back through the power of doughnuts.
Other high notes included cameos by "The Far Side" cartoonist Gary Larson and the late Eartha Kitt, the latter as one of Krusty's ex-wives.
Meanwhile, the long-awaited "Simpsons 20th Anniversary Special – In 3-D! On Ice!" was quite a treat. Directed by "Super Size Me's" Morgan Spurlock, it was a fascinating examination of what the show has meant to pop culture worldwide over the years. Such a documentary just wouldn't work without featuring some "Simpsons" super-fans, and Spurlock's visit to the man whose home was filled with "Simpsons" merchandise was well worth it.
Many denizens of Springfield, such as Apu and Groundskeeper Willie, got their chance to shine on the special, but it was amazing to see the likes of Dan Rather discuss Kent Brockman and San Francisco Mayor Gavin Newsom give his take on Mayor Quimby. All of that paled, however, to finally meeting "Rusty Nails," the inspiration for Krusty.
"South Park's" Trey Parker and Matt Stone, "King of the Hill's" Mike Judge and "Family Guy's" Seth MacFarlane got in on the special as well, theorizing on what they might be doing if not for "The Simpsons." MacFarlane noted that "The Simpsons" was a major inspiration, which may be the understatement of the century. (Story: "The Simpsons" comedy tree)
Spurlock deserves kudos for giving the show's critics, such as Catholic League president Bill Donohue and the residents of Brazil, their due. However, complaints that the show's quality isn't what it used to be were dismissed a little too much for my taste.
As noted on the special, "The Simpsons" has now outlasted "Gunsmoke," "M*A*S*H" and "The Adventures of Ozzie and Harriet," and it was nice to see the show's extraordinary impact acknowledged in such a way. Will we see episode 500? As Bart wrote on the chalkboard, "The world may end in 2012 but this show won't." The only reason I would look forward to the 500th episode would be if it was the last.