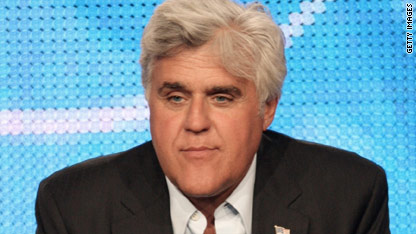 testing captions
Jay Leno fans, you can breathe again - those reports about NBC pulling the late-night mainstay from their lineup aren't accurate, an NBC spokeswoman said in a statement.
"Jay Leno is one of the most compelling entertainers in the world today," NBC representative Rebecca Marks said. "As we have said all along, Jay's show has performed exactly as we anticipated on the network."
But, Marks added, the show has represented some issues for NBC's affiliates - issues she declined to comment on.
However, "both Jay and the show are committed to working closely with them to find ways to improve the performance."
This statement came after FTVLive.com posted a story about NBC possibly pulling Leno because of low ratings, a fear that has hovered over the show ever since he was moved to the 10 p.m. slot in September.
The show was a risk for NBC because it put a talk show up against scripted prime-time shows, and also ran it five days a week. Since the beginning, Leno has been open about the low ratings expectations, noting the network's poor performance.
"NBC's in fourth place," Leno told CNN in September. "You can't do any worse."
But according to Adweek, Leno has indeed stayed on par with ratings expectations.
"Leno is performing at about the ratings NBC sold it," the industry trade reported, "so there were no overblown expectations."