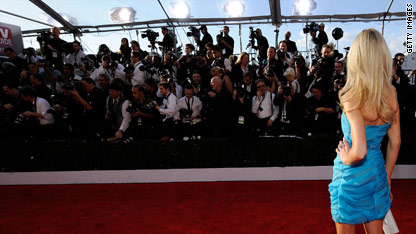 testing captions
If watching your favorite stars walk the red carpet from the comfort of your couch isn't good enough for you this year, you just may be in luck.
The Screen Actors Guild, the country's largest labor union representing working actors, is auctioning off 90 bleacher seats for this year's SAG Awards. Fans will not only see celebrities in person on the carpet, but will be close enough to ask them for autographs and take pictures with them. Even high-def TV can't compete with that.
Today through January 11, folks can bid on 15 sets of two seats and 15 sets of four seats. Money raised through the auction goes to benefit the SAG Foundation's nationwide children's literacy programs.
As of yesterday, plenty of seats hadn't even received a bid on clothesoffourback.org. The starting price for a pair of seats was $25.
The 16th annual SAG awards will be held on January 23 at Los Angeles' Shrine Exposition Center.