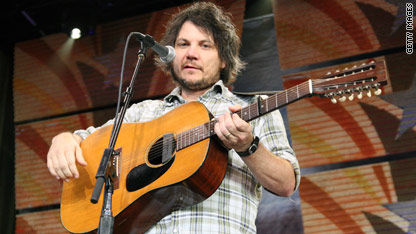 testing captions
At the beginning of the 2000s, artists from N'Sync to Eminem set album sales records. By the end of the decade, the album was somewhat of an antiquated concept, as a new generation of music buyers just bought individual songs they liked from iTunes.
But the album has been music's primary artistic statement for almost a half a century now. And while many of the world's greatest artists produce great singles, their collections are greater than the sum of their parts.
Even with the demise of the album, despite what those living in the past say, the best of this decade can match up with the best of any other decade.
Some of the most revered and acclaimed artists of the 2000s, from Jay-Z to Radiohead, didn't even make this list.
Who did? A mix of popular and obscure artists. A mix of country, hip hop and rock royalty. And a few artists you'll want to add to your collection.
Here's our end-of-the-decade list, so you can starting debates among friends, fellow music fans, and frankly, people who just like to debate.
#10 Arcade Fire, "Funeral" (Merge, 2004)
It takes a lot of moxie to name your debut album "Funeral" and present the liner notes in the form of a funeral program, mentioning the deaths of family members.
But from the opening salvo of "Neighborhood #1 (Tunnels)" through the penultimate song "Rebellion (Lies)," "Funeral" is as alive as the "kids swinging from the power lines" in "Neighborhood #3 (Power Out)." And when lead singer Win Butler's wife Regine Chassagne takes the lead on the funereal closer "In the Backseat," the story's ending can bring you to tears.
There's a reason David Bowie and David Byrne became early fans and proponents of this previously unknown Montreal-based band. Arcade Fire combines the best aspects of Bowie's '70s work with Talking Heads' edginess - and then throw in U2's anthemic grandeur for good measure.
#9 Raheem DeVaughn, "Love Behind the Melody" (Jive/Zomba, 2008)
Raheem DeVaughn may not even be the best-known neo-soul man whose name starts with "R." But his second album is the most fun R&B album of the decade. If "Friday (Shut the Club Down)" doesn't make you want to go dance at the club till they kick you out, you need to get your pulse checked.
And in the latter half of the album, the ladies' man tears into a remarkable stretch of three very different love songs. It's a crime that the mid-tempo, soaring "Butterflies," wasn't a huge hit. "She's Not You" is a great lovers' plea. And "Try Again" combines the best of the previous two songs, evoking great R&B artists of the past.

#8 The White Stripes, "Elephant" (V2/Third Man, 2003)
Power trios move over. The Whites don't need no stinkin' bassist. With Meg's primal drumming and Jack's dirty-old-bluesman riffs, the White Stripes created enough of a Wall of Sound on "Elephant" to make Phil Spector's hair rise.
The thumping singles "Seven Nation Army" and "The Hardest Button to Button" were straightforward, bottom-heavy hard rock, blowing out subwoofers from coast to coast. But that sound was just the point of entry to the White Stripes' warped world - full of everything from Bert Bacharach covers to torch songs and news anchors.
The liner notes say "Elephant" is "dedicated to … for, and about the death of the sweetheart." And while Meg and Jack's marriage may have dissolved, we can be grateful they ignored that elephant in the room and kept making sweet music together.
#7 Songs: Ohia, "The Magnolia Electric Co." (Secretly Canadian, 2003)
Jason Molina is the best Neil Young acolyte you've never heard of. Over the past dozen years, he's released about an album per year under the monikers Songs: Ohia and Magnolia Electric Co.
This is the album on which Molina perfected his hybrid of classic rock and alt-country. He employs his high lonesome voice on stark ballads such as "Just Be Simple" and "Hold on Magnolia" and launches into extended Crazy Horse-style guitar histrionics on "John Henry Split My Heart" and "Farewell Transmission." Molina liked the results so much, he renamed his band after the album title.
#6 U2, "All That You Can't Leave Behind" (Interscope, 2000)
U2 lost its way in the late '90s, overdoing the electronica that, in smaller doses, had helped make "Achtung Baby" (and, to a lesser extent, "Zooropa") so triumphant. On "All That You Can't Leave Behind," the world's biggest band toned things down, focusing on the songs, rather than the pomp. It's a deeply spiritual album, with songs from the rousing opener "Beautiful Day" to the subdued closer "Grace" imbued with religious overtones.
But the album's spirituality isn't just Christian. It has a one world feel, where "Elevation" and the call to "Walk On" have different, deeply felt meanings for all. And the portion of "Walk On" where Bono sings the album's title is the equivalent of a powerful sermon.
#5 Kanye West, "Graduation" (Roc-A-Fella, 2007)
With all respect to West's mentor Jay-Z, who gets due props on "Graduation's" touching closer "Big Brother," Kanye, as much as anyone, defined hip-hop in the past decade. From his powerhouse production on Hova's albums through his own first three albums, West added a layer of introspection, a broader palette of topics and a crazy variety of samples.
While his first album, 2004's "The College Dropout," may have been more influential and groundbreaking, "Graduation" is more consistent. Unlike Yeezy's first two albums, "Graduation" is all killer, no filler, eschewing the between-song skits and segueing seamlessly from one great cut to the next. The megahits "Stronger" and "Good Life" are the obvious standouts, but listening to West bow down to Jay-Z on "Big Brother" is the album's most powerful moment.
#4 Loretta Lynn, "Van Lear Rose" (Interscope, 2004)
This is what you get when you cross a feisty old woman with a young soul and a feisty young man with an old soul. The sparks that flew in the May-December relationship between Jack White and Loretta Lynn created the best country album of the decade and the best Lynn had done in decades, if not ever.
When Lynn and White duet on the one-night stand chronicle "Portland, Oregon," you don't see the age difference. And when Lynn revists her favorite recurring topics, such as her hardscrabble coal miner's daughter childhood, it has a fresh twist. While White brings Lynn some exuberance, he could never take the place of her man. "Miss Being Mrs.," an open letter to her beloved late husband Doo, may be the greatest eulogy in song you'll ever hear.
#3 OutKast, "SpeakerBoxxx/The Love Below" (Arista, 2003)
Yeah, I know. I'm a hypocrite. I just picked "Graduation" over Kanye's first two albums because it's tighter, without extraneous skits. Then, I go ahead and pick perhaps the most sprawling album of the decade above it. I'm helpless. You try and resist this magnum opus by hip-hop's most dynamic duo.
It's actually absurd to classify OutKast as hip-hop, as this album, more than any other, proves. Andre 3000 and Big Boi each master pop, rock, R&B, and jazz, as well as hip-hop. Not unexpectedly, Dre's "The Love Below" is the weirder of the two discs, but Big Boi's "SpeakerBoxxx" is adventurous in its own right, with some of the best songs, such as "The Rooster" and "Hip Hop Rock," difficult to pigeonhole.
The only sad thing about the album is that even though it was credited to OutKast, it was clear the ATLiens were moving on to solo projects. Now, we mere earthlings can only hope they'll regroup and make us shake it like a Polaroid picture again.
#2 Arctic Monkeys, "Whatever People Say I Am, That's What I'm Not" (Domino, 2006)
The Arctic Monkeys were one of the first bands to move from unknown to superstar in their native Britain via savvy Internet marketing. And while many "next big things" from Britain haven't translated well across the ocean, Arctic Monkeys' working-class teenage angst transcends boundaries. "Whatever People Say …" is rife with witty songs about argumentative girls getting turned down by totalitarian bouncers, set to a hodgepodge of pub rock, New Wave and punk styles dating from the first wave of British punk in the late '70s through modern day.
The rockers rock out and the ballads have just as much attitude. Who writes a slow burner about the riot police harassing teens fighting for their right to party? Alex Turner does. Turner manages to take the youthful anger everyone from the Stones to the Sex Pistols to Nirvana has exploited and maintains the rage, but with a knowing wink. It's a post-modern teen angst, perfect for an Internet-weaned, short-attention-span generation.
#1 Wilco, "Yankee Hotel Foxtrot" (Nonesuch, 2001)
It's impossible to separate this album from two things:
First, the almost-prophetic allusions to events on 9/11, which happened soon after Wilco put this album in the can and streamed it online. And second, the strife behind the making of the album, so well-documented in Sam Jones' film, "I Am Trying to Break Your Heart."
But put those two things aside and focus on the 11 songs here. Wilco's previous best album, 1996's "Being There," was ironically titled, a sprawling meditation on what it was like not being there with your loved ones, and the temptations and interference that could doom relationships.
"Yankee Hotel Foxtrot" took those feelings of anomie and added some of the malice alluded to in 1999's "Summerteeth." Main songwriter Jeff Tweedy sings of trying to break your heart, how there's "something wrong with me," and how you have to learn how to die if you want to be alive. That pervasive alienation is exacerbated by the off-kilter instrumentation and arrangements Tweedy, producer Jim O'Rourke and the late Jay Bennett came up with.
At times, Tweedy rises for air, on "Heavy Metal Drummer" and "I'm The Man Who Loves You," realizing connections with other people are preferable. Many of the songs rock hard, but the album's power peaks in its mid-tempo and slower songs. "Jesus, Etc." is the best Al Green knockoff ever done by a bunch of white Midwesterners.
The second-to-last song, "Poor Places," builds from a whisper to a noisy storm. And after all the passion and the anger, the ambivalent, somber closer, "Reservations" - "I've got reservations/about so many things/but not about you" - provides the perfect coda.