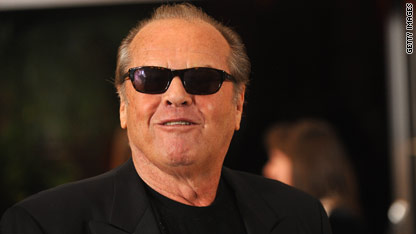 testing captions
Jack Nicholson has won three Academy Awards, seven Golden Globes and even been nominated for a Razzie.
But in May he will receive what could be his highest honor yet when he is inducted, alongside Danny DeVito and Susan Sarandon, into the New Jersey Hall of the Fame.
The Garden State announced its 2010 inductees on Thursday.
The stars of the silver screen are in distinguished company; joined by astronaut Wally Schirra, singer Frankie Valli , former President Woodrow Wilson and former Supreme Court Justice William Brennan.
The Hall of Fame's mission, according to its website is " to honor New Jerseyans who have made invaluable contributions to society and beyond."
Nicholson was born in Neptune, New Jersey.
The winners were chosen online by those notoriously fickle New Jerseyans themselves and by the hall's Voting Academy of 100 state organizations.
This is the third class to be elected. Past inductees have included musicians and beloved New Jerseyans Bruce Springsteen and Jon Bon Jovi, both of whom made acceptance speeches at the Hall of Fame's induction ceremony.
We would like to see Jack, 72, embrace this hometown honor with gusto! Here's hoping he can take some time out of his busy schedule to make the induction ceremony in May. All work and no play....