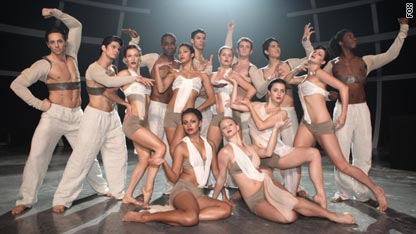 'SYTYCD's' top 14 group routine
The solos on Wednesday night's "So You Think You Can Dance" results show were much improved after judge Nigel Lythgoe admonished them last week. As pred... wait, can I just pull an Adam Shankman and interrupt myself to say how much Wade and Amanda Robson's group routine rocked? I smell another Emmy!
Anyway, as predicted, Karen and Kevin's weak "Sweet Charity"-inspired number landed them in danger. Despite an entertaining birdcage routine, Channing and Justin joined them.
Surprisingly, and thankfully, Russell and Noelle got enough votes for their fox trot to stay safe. Despite showing a good deal more maturity this week, Nathan's female fanbase didn't vote in enough numbers to save him and his partner Mollee from the bottom three. After last week, I would have preferred to see them go, but then I saw their solos. Like it or not, they really brought it, particularly Mollee with an incredible cartwheel onto her knee.
I'm not much of a Victor fan but I also have to admit that he had a pretty impressive solo this week, too. Kevin was by far my favorite of the three guys in danger, but unfortunately, his solo was more of the same (and still reminiscent of Twitch). Like I suspected, Kevin was sent home, leaving the hip-hop contingent this season to two.
It's just too bad that Channing had only started to show her personality, but her solo didn't wow me, or the judges, apparently. With Mollee in the clear, they kept Karen, who has been one of their favorites, despite an off week (I'm guessing judge Mary Murphy really fought for her). This time, I was happy to be wrong in my prediction.
So we have an unusual situation where Victor and Karen will be paired up next week, only to be broken up - assuming they make it to the top ten.
Now it's your turn: Did the judges make the right call this week? Do you agree with my (begrudging) opinion that Mollee and Nathan earned a place in the top 12 with their solos? Sound off on video, or in the comments below.