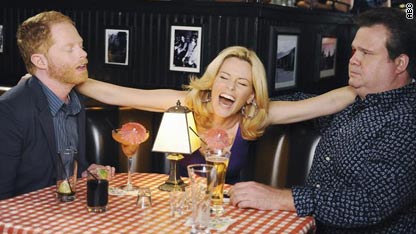 When it was announced that Elizabeth Banks would guest star on ABC's new hit comedy "Modern Family," one assumed she would ham it up as she has in "The 40-Year-Old Virgin" and "Scrubs." Ham it up she did, as Mitchell and Cameron's wild, hard-partying friend.
However, when it was announced that Edward Norton, star of such dark movies as "Fight Club" and "American History X," would play a musician, the last thing I expected was the guitarist from '80s one-hit-wonder band Spandau Ballet.
"Modern Family's" ensemble has quickly become one of the sharpest on TV, and I think Ed O'Neill's "Jay" and Ty Burrell's "Phil," in particular, are Emmy-worthy. Bringing in two guest stars actually wasn't all that necessary, but seeing Norton and Banks interact with the cast was a real treat.
In this episode, Mitchell and Cameron learned that their new baby and old friend weren't going to mix - as Banks not too subtly implied that she wouldn't mind getting rid of it altogether since it got in the way of her wild lifestyle.
Meanwhile, it turned out that Phil isn't a complete disaster as a person, because he certainly knows how to shower his wife, Claire, with gifts on her anniversary. She, on the other hand, was totally clueless and invited Norton's character to give them a private show, assuming that "True," the first song they ever heard, was something special to him.
Instead, it turned out that he barely had any clue of the band beyond that. It seemed that Norton wanted a chance to really let loose here, which he certainly did, but the interplay between Burrell and Julie Bowen, already perfect, was what made it stand out.
The funniest part of the episode, however, was Jay and teenage granddaughter Haley's game of cat and mouse, as she tried to sneak out of his house for a party. Unfortunately for her, he was two steps ahead of her, having gone through this before with her mother.
This episode was another great example of how this show captures the family dynamic in new and unique ways and it didn't need two big-name guest stars to pull it off.
Did you watch last night? What did you think of Banks and Norton? Share your thoughts on video, or in the comments below.