Statements are pouring in from all over Hollywood about Michael Jackson's death.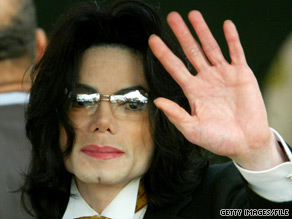 "I am so very sad and confused with every emotion possible. I am heartbroken for his children who I know were everything to him and for his family.  This is such a massive loss on so many levels, words fail me."- Lisa Marie Presley
"I was lucky enough to know and work with Michael Jackson in his prime. Michael was an extraordinary talent and a truly great international star. He had a troubled and complicated life and despite his gifts, remains a tragic figure. My wife Deborah and I will always have great affection for him." – John Landis, director of Michael Jackson's "Thriller" and "Black or White" music videos.
"I knew Michael as a child and watched him grow over the years. Of all the thousands of entertainers I have worked with, Michael was THE most outstanding. Many have tried and will try to copy him, but his talent will never be matched. He was truly one-of-a-kind." – Dick Clark
"Michael Jackson was one of the most creative and successful recording artists of the last 40 years. He became an instant star when he was only 11 years old, fronting the Jackson 5," said Jim Henke, vice president of exhibitions and curatorial affairs at the Rock Hall of Fame and Museum. His solo career was so extraordinary that he became known as the King of Pop. Few other artists of his era reached the peaks that he did, both in terms of sales and critical acclaim.  His legacy will live on for a long, long time. We join the world in mourning the loss of this twice-inducted member of the Rock and Roll Hall of Fame."- Rock and Roll Hall of Fame
"Michael Jackson was my Musical God.  He made me believe that all things are possible, and through real and positive music, he can live forever!  I love Michael Jackson.  God Bless him."- Wyclef Jean
"Rarely has the world received a gift with the magnitude of artistry, talent, and vision as Michael Jackson. He was a true musical icon whose identifiable voice, innovative dance moves, stunning musical versatility, and sheer star power carried him from childhood to worldwide acclaim. A 13-time GRAMMY recipient, Michael's career transcends musical and cultural genres and his contributions will always keep him in our hearts and memories. We are deeply saddened by this tragic news and our hearts go out to his family and to music lovers around the globe who mourn this great loss."- Neil Portnow, President/CEO of The Recording Academy®
"I am absolutely devastated at this tragic and unexpected news.  For Michael to be taken away from us so suddenly at such a young age, I just don't have the words.   Divinity brought our souls together on The Wiz and allowed us to do what we were able to throughout the 80's.  To this day, the music we created together on "Off The Wall," "Thriller" and "Bad" is played in every corner of the world and the reason for that is because he had it all...talent, grace, professionalism and dedication.  He was the consummate entertainer and his contributions and legacy will be felt upon the world forever.  I've lost my little brother today, and part of my soul has gone with him."- Quincy Jones
"Michael Jackson was my generations most iconic cultural hero. Courageous, unique and incredibly talented.  He'll be missed greatly."- Russell Simmons
"A friend of Michael's for the last 35 years, I call on people around the world to pray for him and his family in the hour. I have known Michael since we were both teens, worked with him, marched for him, hosted him at our House of Justice headquarters in New York, and we joined together to eulogize our mutual idol, James Brown. I have known him at his high moments and his low moments and I know he would want us to pray for his family."- Reverend Al Sharpton
"I am so devastated by this terrible news. From the beginning of my career, he was my idol in show business. He was a genius and an incredible artist!! I remember when I was growing up and watching him on TV, and all his videos...I had his poster on my wall...he was so amazing...his singing, his writing, his dancing. We had the same record company, and they knew I was a huge fan, so when things started to happen for me, they arranged for us to meet. I was so nervous, and so excited at the same time, and Michael was so nice. He autographed one of his hats for me.... I was so thrilled. Years later, he came to see my Las Vegas show and we spent some time together....and we were really looking forward to seeing his show in London. It's unbelievable that he's no longer with us. It still hasn't sunk in. I guess we're just finding out what happened, but all I can say is that he must have been under an enormous amount of pressure......to do the shows, and to keep on top of everything, plus this was going to be his big comeback. This is a lot of pressure and it can be overwhelming for anyone. I'm sure it was just too much to handle. Right now, along millions and millions of others I am so sad....and I just want to send my prayers and love to Michael's family. I can't imagine how difficult this is for them....to lose someone so special. And it's the same for everyone in the world who loses a loved one. It just keeps reminding us of how precious life is, and that we never know when it's our time. God Bless his soul."- Celine Dion
"The two great losses that we experienced today can only be balanced by the beautiful things they left behind for us on this earth. Farrah Fawcett and Michael Jackson will forever live in my heart as unforgettable and eternal...Las dos grandes perdidas que hemos  sentido hoy solo se puede balancear con las cosas bellas que dejaron atras en nuestro mundo. Farrah Fawcett y Michael Jackson viviran siempre en mi corazon como inolovidables y eternos..." – Gloria Estefan
"My heart is overcome with sadness for the devastating loss of my true friend Michael.  He was an extraordinary friend, artist and contributor to the world.  I join his family and his fans in celebrating his incredible life and mourning his untimely passing."  – Brooke Shields

"I am so grateful to have worked with the King. He was a gift to the world, he is a bright light and I wouldn't be surprised if the world stopped spinning tomorrow."-Will.I.Am
Call us at Showbiz On Call -888-SBT-BUZZ (888-728-2899)- with your memories and thoughts about Michael Jackson. And be sure to tune into Showbiz Tonight at 11pm ET/PT on HLN to hear your calls and for the latest developments.