"Jon & Kate Plus 8" producers are pumping this marriage uncertainty question between couple Jon and Kate for all its worth. Now they are teasing viewers with an announcement to come during a one-hour special on Monday night. We are told that it will be a "life-changing" decision.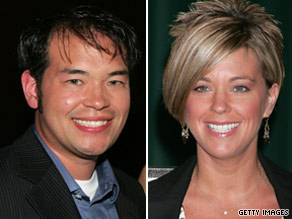 It's obvious the show is looking for a way to bring non-Jon & Kate loyalists back after the producers saw audience numbers drop after this season's premiere. But this so-called announcement better leave jaws dropped or numbers will drop within Monday's special hour show.
Jon is accused of cheating on his wife, who has said she doesn't believe the tabloid accusations. But there is clear tension and unhappiness between the couple.
In all of this, what viewers want most is reality and they want to see how this reality plays out. Don't give viewers something meant to keep them watching for ratings.
Tell us: Will Jon and Kate Gosselin try to piece together their marriage? Or will they announce a separation?