We may not know exactly what Adam Lambert's debut album will sound like, but we do now know at least one of the project's producers.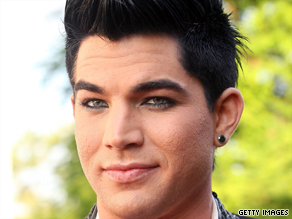 This season's "American Idol" runner-up confirmed to Parade.com that he is working with RedOne, producer for Lady GaGa.
"I can say that is true," Lambert said. "We have been writing the past couple days and I think we're going to come out with some amazing tunes. I'm going to have my own sound but I do love Lady Gaga. I'm a huge fan."
The glam rocker gets chatty about Perez Hilton's "crush" on him, dealing with his newfound celebrity status and reuniting with fellow contestants.
He also reveals that he's been rubbing shoulders with some big-name artists since the show ended, including Usher, Enrique Iglesias and Madonna.
With so much star power circling in Lambert's universe, might he be lining up some killer duets for his project?
–Lisa Respers France, CNN.com writer