Growing up, I was a huge "Little House on the Prairie" fan. I couldn't get enough of Walnut Grove, the Ingalls family, the one-room schoolhouse, Pa's fiddle… even Nellie Oleson. So naturally I jumped at the chance to attend a Q&A followed by a book signing where I met Melissa Gilbert - Laura Ingalls Wilder herself - whose tell-all memoir, Prairie Tale has just hit bookstore shelves.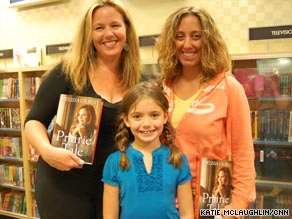 (Left to Right) Melissa Panetta, Summer Panetta, and Elaina Benfante share a love of "Little House on the Prairie" and were thrilled to meet Melissa Gilbert.
I at least thought I was a big LHOTP fan… until self-proclaimed "Little House fanatic" Chris Czajka informed me that rabid fans are known as Bonnetheads. One word.
Czajka creates educational materials for the "Little House on the Prairie" musical; a 40-city tour of the show is set to kick-off later this year. Czajka also told me that Bonnetheads regularly attend the show in full on prairie-era costume. Rocky Horror, anyone?
I interviewed Gilbert; and being the LHOTP fan I am (I am not cool enough to call myself a Bonnethead… yet!), I  strictly talked "Little House."
Katie McLaughlin: On "Little House on the Prairie," did you acquire any skills that didn't quite translate over to modern-day life, yet are fun to show off at parties (IE: butter churning)?
Melissa Gilbert: I can drive a stagecoach, fire a rifle, rope a horse, and play a mean game of poker.
KM: Do you have any mementos from the "Little House" set?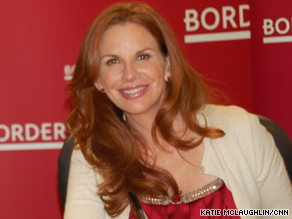 Actress Melissa Gilbert poses for a photo while signing copies of "Prairie Tale."
MG: I have the first dress I ever wore on the show - the red one from the credits –- framed and hanging in my house. I have the original pilot script; I have my motel key from when we filmed the pilot in North Carolina, and the sign from Wilder Room and Board.
KM: Your favorite episode, "The Lord is my Shepherd," was about how Laura moved to a mountaintop to be closer to God because she felt guilty that she did not pray for her sick infant brother, who died. Do you realize that there are no mountains whatsoever on the prairie?
MG: Yup! Why do you think it took me so long to get there?
KM: Do you have the covered wagon-shaped, 60-disc "Little House" complete series DVD set?
MG: Yes, and I had to buy it on Amazon myself.
KM: I can't believe you had to buy it yourself! By the way, I think it would have been cool if the DVD set was shaped like the house itself - instead of a wagon, don't you?
MG: That would be nice. It'd also be nice if I got a cut of the profits.
- Katie McLaughlin, CNN