Bonnaroo, a massive four-day music and arts festival held every June in Manchester, Tennessee, begins today, and quiet panic is setting in at the Wheatley household.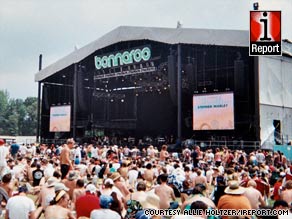 In less than 24 hours, we'll be swimming in a sea of sweat and patchouli. But right now we still need to find someone to feed our cat, and pick up our share from the farmers market. Sarah - my lovely wife - thinks I need a bigger hat. She's right. My sensitive skin will likely take a beating soon.
Going to 'Roo is no small undertaking. It is a feat of endurance. Rock concerts begin around noon and push through 4 in the morning. The blistering sun heats your tent like an oven so you can't sleep past 9. That is, if thunderstorms don't turn the grounds into a muddy bog.
That may not sound like fun. But, for music lovers, Bonnaroo is practically paradise – sporting one of the most diverse lineups in the country.
The event, which began in 2002 as a jam-band festival geared toward the Dead-head crowd, has shed much of its hippie-fest reputation in recent years by showcasing mainstream artists like Metallica, Radiohead, and The Police. It's now arguably the best rock festival anywhere and this year's lineup aims to thrill.
Headliners Bruce Springsteen and the E Street Band and Phish (playing two nights) anchor a cast of more than 100 performers - from established acts (Beastie Boys, Nine Inch Nails, Wilco) to legendary performers (Al Green, David Byrne, King Sunny Ade) to indie darlings (Bon Iver, The Dirty Projectors, Of Montreal).
Something for everyone, but the stacked lineup also provides for some near impossible choices. Take Sunday night - as Snoop Dogg, Band of Horses and Neko Case occupy separate stages during the same hour.
My own must-see list continues to swell - in addition to the artists above, I'm psyched to see country legend Merle Haggard, the reunion of rap pioneers Public Enemy and the incomparable dance-party mash-up that is Girl Talk, the later of which begins at 2:15 a.m. Friday night!
Tens of thousands of tent-towing music fans are already making the pilgrimage to the sprawling 700-acre farm that houses the event. With any luck, I'll be arriving tomorrow morning with ample time to set camp, cover every inch of exposed skin with SPF 75, and catch the all-female Norwegian quartet Katzenjammer. I kid you not.
If you're going, please share your stories on iReport.com.
I'll be keeping you updated with pics and show reviews right here on the Marquee Blog, and you can also follow my exploits on Twitter.