In the summer of 2000, my college friends and I spent hours playing "Saved By the Bell" trivia. We'd try to one-up each other with obscure SBTB references, such as: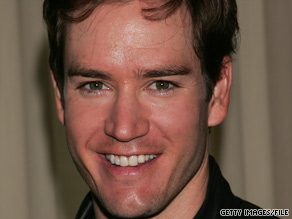 Which "Good Morning, Miss Bliss" student regulars didn't make it to "Saved By the Bell"? What were the names of the competing friendship bracelet brands Zack and friends sold to the students of Bayside High? What teacher called Zack a "blond Tom Cruise" in the episode about subliminal messages in advertising? (See below.)
Yes, it was a lame way to spend a Saturday night.
But it was also a revealing insight into what a cultural touchstone "Saved By the Bell" was for my generation - those of us born in the late '70s and early '80s. We knew the show was cheesy, for sure, but we couldn't turn away.
Now buzz on "Saved By the Bell" is building, largely thanks to Jimmy Fallon, who is campaigning for a "Saved By the Bell" reunion. Last night Mark-Paul Gosselaar -­- in character as Zack Morris –­ announced on Fallon's "Late Night" that he would participate in the reunion, where he'll join Mr. Belding (Dennis Haskins), Lisa Turtle (Lark Voorhies), Jessie Spano (Elizabeth Berkley) and A.C. Slater (Mario Lopez).
Today Gosselaar cracked the top 20 on Google Trends, following yesterday's strong showing by Voorhies at number 14 and Tiffani Thiessen (Kelly) -­- formerly known as Tiffani Amber Thiessen ­– at number 39.
What is it about this show that captivates us? I think its ubiquity in the '90s helped; I remember coming home from high school and being able to watch two hours of "Bell" per day in syndicated repeats.
And then last night, as Gosselaar delivered his tongue-in-cheek performance as Zack on "Fallon," he appeared to lampoon his adolescent acting skills, his impossible SAT score (1502? really?) and the band, Zack Attack, of "Friends Forever" fame. And yet we're still interested.
Even if it's a little shameful to admit it.
(Incidentally, the answers to the questions in the second paragraph are, respectively, Nikki and Mikey, Friendship Bracelets and Buddy Bands, and Miss Wentworth. But you knew that, right?)
- Debra Alban, CNN.com Writer/Producer